Only 2013 unique collection pieces
The watch with the Vatican coats of arms inspired by Pope Francis
Watch the video
The Watch of timeless

Emblems
A story which becomes a symbol of past and contemporary heritage, emblems of sacred principles and values in which everyone finds himself.
Buy now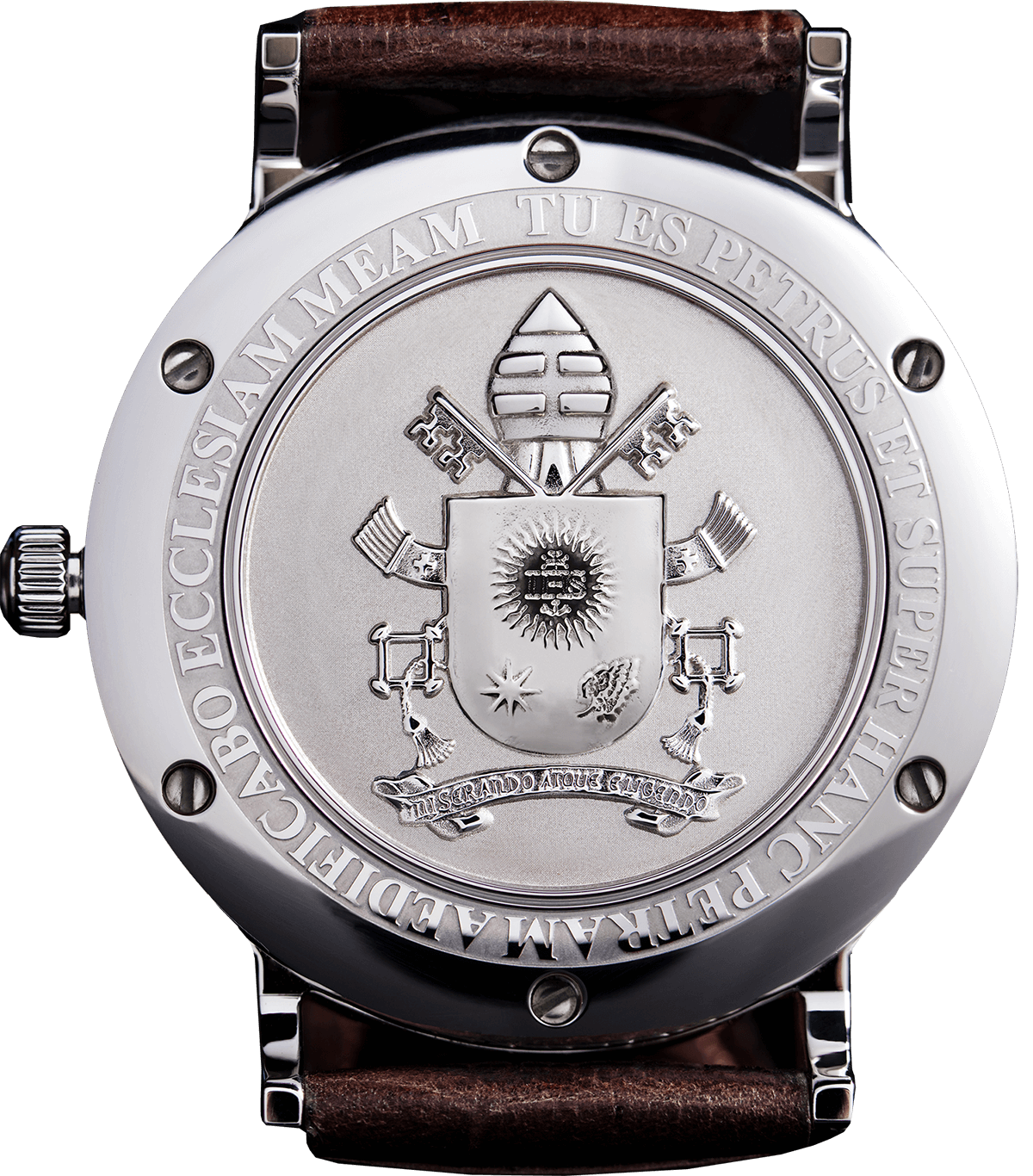 A Story of Symbols
These magnificent, precious and centuries old Coats of Arms represented in the clock face and in the back of the watch, give a deep value to the binding between the Holy See and Pope, between Christianity and humanity, among divulgers of faith and sacred texts.
Kefa company within this masterpiece exclusively reproduces two Coats of Arms: the one of the Vatican State and the other of the actual Holy Father, Pope Francis.
Our Commitment
This exclusive reliance honors us and we deeply feel the responsibility to pass on to future generations the importance and the strength of these historical symbols.
KEFA is inspired by Pope Francis 2013 election year, to realize a unique project of strong symbolic value, and to create 2013 exclusive and unique watches.
Rare Today
Unique Tomorrow
The value of uniqueness
Each KEFA watch is a unique and non replicable piece due to its edition number. The history passed on, with its symbols, its sacred places, its distinguished protagonists, and the time punctuated by KEFA, that waits and welcomes whomever identifies himself with this sacredness vicissitudes.
Engraved, numbered and recorded, the
2013 pieces

are the key to recall subsequent moments and enhance future occasions.
The Electronic Record
This unique and innovative electronic record will archive the history of each watch from the initial purchase and will increase its value overtime.
Each registered owner will be able to update and access their own account with a personal password.
Registration
The two words "Pietro" (Peter) and "pietra" (stone) blend together in the ancient Aramaic word "KEFA"
KEFA
---
Time fascinates and magnetizes the man who looks far away

KEFA finds its roots in an exceptional space, which tells us of Peter's strong faith, within deep meditation about the time of the earthly life projected towards the divine time.
SOLIDARITY
---
Current times give a prior place to solidarity

Values, history and symbols become solidarity: an initiative also aimed at raising funds to support charitable activities.
Masterpiece details
Classic details that enrich and personalize each watch; fascinating touches for every individual taste that, as the clock chimes, mark life events.